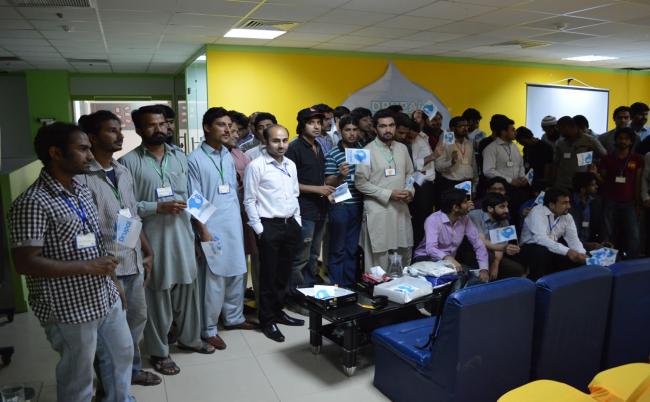 DRUPAL CAMP ISLAMABAD 2014 - A RECAP
Immediately after our Drupal Camp in Lahore on 3rd May,2014 , focus shifted to Drupal Camp Islamabad which was just a week away by then falling on May 10th 2014. Muhammad Iqbal, CEO Figover, who are always with us in arranging Drupal Related activities in Islamabad was toiling hard for a successful camp. He and his team visited all the universities and software houses in Islamabad and invited students and professionals for the camp. DatumSQuare IT Services, one of the premier IT companies in Pakistan had offered their office as venue for Drupal Camp Islamabad. And it was no wonder that most of the speakers of the event were from Datum Square. We the Drupal Community in Pakistan are extremely thankful to Raheel Afzal Khan , The CEO of the company, Nabeel Ilyas, Asad Mahmand , their speakers and all others involved in providing us such a wonderful place for the CAMP. We visited the venue a day prior to the Camp AND boy oh boy, what a colorful place it was. Painted in beautiful flat colors, beautifully colored chairs, two separate halls for two tracked sessions, the stage was all set for the CAMP to begin. Even on the eve of the CAMP , there was a sense of extreme interest on part of the whole DatumSquare team and management and I felt for a while as if the CAMP was going to begin in the next 5 minutes. This shows how DatumSquare values IT and all the worthy technologies they work with and believe in constant up gradation of IT personnel
Likewise in Lahore, Drupal Camp Islamabad began with the WHY Drupal session from Muhammad Qandeel Aslam. Inspired from Drupal at Drupal CAMP Lahore, we had visitors from the same camp as well, who visited all the way from Lahore to Islamabad and that too amid some political tension prevailing by the time CAMP was being organized. Qandeel Aslam in his characteristic way asked audience about their IT background before he plunged into the depths of What Drupal is, and why is it important to adopt. Audience like in Lahore was predominantly having custom PHP and Wordpress background, with a few from ASP.net as well. Qandeel Aslam narrated all his success stories pertaining to his career in Drupal. He mentioned some of his very high traffic websites which he has built in Drupal. His session pretty much set up the tone for the day
After Qandeel's session, which was a combined one, two parallel sessions started and the trend lasted for the day. There were two parallel sessions taking place, one for the advanced users, and one for absolute beginners. I started my two and a half hours long Hello Drupal session and in the main hall, Shafqat Hussain from DatumSquare began his session on Drupal Performance Optimization. Hello Drupal session covered all the basics of Drupal, from installation to all the key terminologies in Drupal. The 150 minutes session was a complete training session on Drupal leading up to usage of views module. Many different short scenarios were discussed and presented showing the audience how great Drupal can be and how easily things can be done in Drupal. Audiences were glued to the demo screen for the entire session with lots of questions being asked and answered. It was a highly interactive session and I really enjoyed delivering it . It is always enjoyable narrated all the great things Drupal has got to the audience and I simply love it to the extent I love Drupal itself.
His session was followed by Usman Ahmed's session on Drupal Security. Usman is an experienced developer and has some very high level Drupal and Joomla websites under his belt. Usman mentioned some of his cilent's websites which were vulnerable in other platforms before moving them to Drupal and totally securing them. Usman explained making Drupal Input forms more secure including the Drupal Login system. He stressed on encrypting sensitive information if required. He also focused on directory permissions. Thank you Usman for such a wonderful session.
Shafqat Hussain's session on Drupal Performance Optimization was an awesome one. All the bottlenecks which a Drupal website might have were discussed. All good practices leading to a highly optimized Drupal Website were demonstrated. The use of Boost module was practically demonstrated as well.
Following his session was time again for Qandeel Aslam to speak and show how theming is done in Views and in Drupal 7 core. The topic of his session was Advanced Level Usage of Views Module and views templates. All the basics and inner working of template files in views were discussed. The session geared for advanced users in Drupal brought a lot of interest among the audience proving the point of flexibility that the Drupal platform owns.
It was then lunch time and audience had some fabulous lunch. The star of the show Jibran Ijaz, who was also going to speak after the lunch had arrived from Lahore for the Camp along with his always obedient friend Shahid Nawaz. The lunch provided audience and other developers some time to talk to the most active contributor from Pakistan these days.
After lunch, again two parallel sessions started. For beginners , Muhammad IQBAL from Figover who also was one of the sponsors and main organizer of the event started his much awaited session on Multilingual Websites in Drupal. In Lahore , we had a lot of questions regarding Multilingual Capabilities of Drupal and it was no wonder our guests from Lahore were also sitting attentively in the session. In his peculiar style, Muhammad IQbal demonstrated how multilingual websites in Drupal can be built. Q&A were followed at the end of the session.He continued for another session as well. His second session was on using GMAP module in Drupal.
Parallel to the multilingual session, Jibran Ijaz, The most active contributor from Pakistan to the Drupal Community started his session on What's new in Drupal 8. He gave a thorough overview of the changes D8 has adopted. What was in Drupal 7 and what is going to be in Drupal 8 was the core of his presentation. One can imagine the quality of the substance of the session from the Speaker himself, the one who has over 100 commits in Drupal 8. All his session and the knowledge he has got about this great platform was highly inspirational.Thank You Jibran for your enlightening sessions both in Lahore and in Islamabad.
Jibran's session was followed by a more in depth session from DatumSquare's very own speaker Shabir Ahmed. Shabir session was titled Drupal 8 Core and API changes. He touched changes in Drupal 8 from all the key angles of Drupaler's standpoint. Changes from end users, clients, site builders, the new templating engine (twig) , symphony components,module development, plugin system etc were discuss. The Guru Jibran also had to add details to what Shabir was presenting and their combination really exposed Drupal 8 and its internal workings to the audience. All the fear which Drupal 8 has got in the minds of Drupal 7 developers was a lot diminished. Thank you Shabir Ahmed
Parallel to Shabir's session in the room for beginners, Ali from Figover had started his session on Building a Facebook like website in Drupal. It attractive a lot of audience and the newbies to Drupal stayed glued to Ali's screen. Every part of the process was thoroughly explained leading up to a fully functional Facebook like website. If ever a question was asked of Ali regarding the process, he answered it by demonstrating it to the audience. The session ended but not without an appealing Facebook like functional website in front of the audience. The session ended with a lot of clapping from the audience.
It was almost all DatumSquare speakers at the main hall for Advanced users. After Shabir's session, audience was "drushed" by Hazrat Ali from Datum square. His presentation was on Importance of Drush for Drupal Developers . It was an extremely effective session with all the Drush beauty revealed to the audience. Hazrat Ali made it a memorable session with all the fun he normally delivers his session with. Every Drush command brought some laughter in the audience ensuring the session never got boring. Thank you Hazrat Ali for such an interesting and excellent method you delivered your session with.
The last session for advanced users was on Search API and Apache Solr from DatumSquare's Ali Nauman. The topic of his session was Building Amazing Searches with Search API and Facet API /Apache Solr. Ali Nauman, the author of Views Glossary Module presented how Apache Solr can help in building powerful search experiences in Drupal. Some high profile Drupal websites where Apache Solr and Facet API have been used were demoed. Thank you Ali Nauman for a very informative and fruitful session.
The audience gathered for some memorable group photos after Ali Nauman's session. Certificates were also distributed among participants. An informative and much awaited Drupal Camp came to its end but not without galvanizing the Drupal Community in Pakistan. We sincerely hope that Drupal will flourish in our country as a platform of choice among web developers. Thank you all the Speakers, Attendees, Sponsors, Datum Square for the Venue and Figover for their continued support and hard work for arranging this Camp. We also extend our heartiest gratitude to the Drupal Association for backing us for both these events. I also thank my team at Drupak consisting of Adnan, Naveed, Sadam, Sajid,Yasir, Salman, who worked really hard helping us arrange this camp. See you all next time.